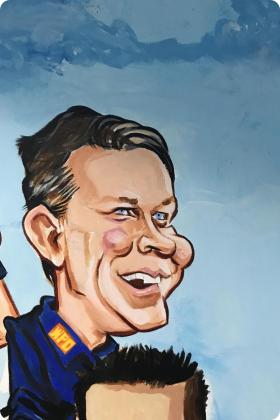 Chief Steven M. Sargent is a highly respected leader in the law enforcement community.
Throughout his career, he has embraced many challenging assignments in nearly every division of the department including Patrol, Detective Bureau, Gang Unit and Vice which have provided him with the opportunity to enhance his knowledge, and skills in law enforcement principles, practices and techniques.
A U.S. Army veteran, Chief Sargent began his career in 1986 as a patrol officer. He was promoted to Sergeant in 1995. In June 1999, he achieved the rank of Lieutenant, the same rank his father, a retired Worcester Police Officer, had attained. Chief Sargent was promoted to Captain in 2004 and became a Deputy Chief in 2007. He was promoted to Chief of Police on May 12, 2016.
As an officer, one of Chief Sargent's first assignments included patrolling Great Brook Valley for more than three years. This long-term assignment gave Chief Sargent the foundation of his strong belief in the effectiveness of Community Policing which he refers to as simply "policing". Chief Sargent experienced first-hand the positive impact of establishing a rapport with community members allowing him to strengthen bonds, gain trust and solve problems in the area.
In 1992, Chief Sargent was instrumental in creating the Gang Unit to address the growing number of gang membership and violence in the city. While working in the Gang Unit, Chief Sargent saw the need for youth violence prevention and intervention programs. He along with other members of the Gang Unit established numerous athletic programs for at-risk youth including basketball, boxing, and baseball. The athletic leagues were designed to provide a safe and healthy venue for at-risk youth to gather and play in an organized team sport and to foster positive interaction between the police and attendees. As an officer engaged in these programs, Chief Sargent became a positive role model encouraging teens to make good decisions, and develop leadership skills.
Chief Sargent also worked to form outreach programs with the Boys & Girls Club of Worcester. The Boys & Girls Club of Worcester formed a partnership with the Gang Unit to use special strategies for recruiting hard-to-reach youth and provide them with positive activities at the Club. The Gang Unit then went on to collaborate with numerous other youth groups in the city to link teens with programs and resources.
Chief Sargent served nine years as Deputy Chief overseeing the Operation Division. The Operations Division is the largest division within the department. Chief Sargent oversaw the day-to-day operations of the department and coordinated with other units within the force. He managed the deployment of foot beat officers and appointed school resource officers. Chief Sargent was also responsible for organizing the assignment of officers to 52 neighborhood watch groups where officers and citizens partner to reduce crime and improve their quality of life.
As Chief of Police for the second largest city in New England, he has initiated several new programs within the department, including establishing a Mounted Patrol Unit, Neighborhood Response Team and the Worcester Program for Addiction Recovery (WPAR). Chief Sargent holds a Master's Degree from Curry College and is a graduate of the FBI National Academy. He is a life-long resident of Worcester. He is married with three sons.