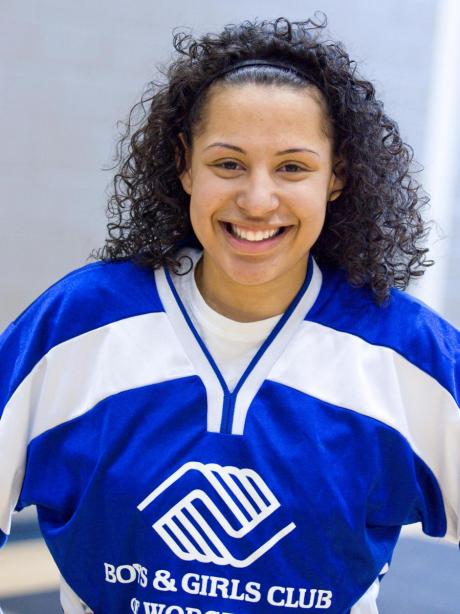 Youth of the Year Update
Theresa is currently a senior at Clark University. Still active at our Club, she comes back to volunteer and work, every chance she gets. Thank you, Theresa, for your continued work at our Club!
Theresa has come a long way from the angry little girl she was when she first arrived at the Club. As a young child, her family faced some challenges that left her filled with anger. At the Club, Director of Clubhouse Operations, Ike McBride, became a father figure to Theresa. As a young teen, Theresa channeled her anger into positive energy, and began filling her life with positive activities and actions.
A senior in high school, Theresa is taking AP –level classes, and is a member of the National Honor Society. After school, she tutors her peers, helping them achieve better grades and a fuller understanding of material presented.
At the Club, Theresa offers her leadership and energy to several programs. She is shooting guard for our basketball team, which she also coaches. She helps teach SMART Girls, a Club program for 11 to 14-year-olds that provides a venue where girls can discuss matters that are important in their lives. As a member of our Club's Keystone Club, Theresa travelled to Pennsylvania to represent our Club at a conference. She is editor of the Club News and volunteers at almost every event.
Theresa thanks the Boys & Girls Club of Worcester for being a family to her. "My friends are here; it's helped me keep focused." And with Theresa's focus, she will continue to share her talents and abilities as she moves forward in college, and in life.*
*Please note that Theresa's Youth of the Year article was written at the time of her award.