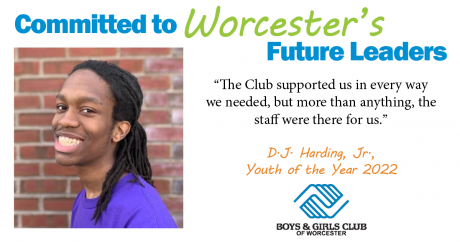 Running and maintaining four Clubhouses, employing a skilled staff, and being able to provide numerous programs and services to over 8,000 youth annually is no easy task, and we certainly can't do it alone. It requires a great deal of support from the community in the form of grants, donations and in-kind giving. It's only with support from people like you, that we continue to change kids' lives and make an impact on our community. There are many ways for individuals and businesses to contribute. No matter what your budget is or how often you'd like to give, we have a program that will work for you. Check out a listing of different ways you or your organization can make a contribution to our Club and a difference in our kids' lives.
Donations to our Club can be made securely online, 24 hours a day, seven days a week, for your convenience by visiting our online donation page.
You can also mail your donation (payable to the Boys & Girls Club of Worcester) Attention: Liz Hamilton, 65 Boys & Girls Club Way, Worcester, MA 01610 or come in, visit our Clubhouse, and drop your donation off personally.
Community Bag Program
Want to give back? Support the community and the environment! Go to the locations below and purchase the $2.50 Community Bag. We will receive a $1 donation for every bag sold during the promotional month.