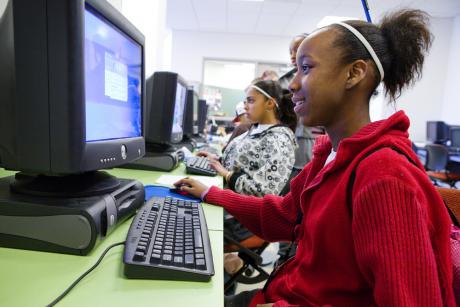 The Boys & Girls Club of Worcester creates an environment where expectations are high, and members prove themselves capable as they successfully rise to meet them. Members involved in teams or other structured programming have academic goals they are required to meet in order to continue participation. Our trained program staff is available to offer assistance to ensure success.
Under supervision from our Education Program Director, college student volunteers from area universities work with elementary, middle and high school student members to help them improve their grades and become more involved with their studies. The Learning Center is the hub of academic support. It facilitates the educational programming available to members at the Club, ensuring that our kids have the space, resources and programming they need to achieve greater success.
Program Areas and Highlights
Educational program areas include:
Individual tutoring, homework guidance, and achievement incentives,
Unique opportunities to prepare for college, including tours of local universities, and college and financial aid application workshops.
Program Highlights:
Over 90% of club members with regular attendance improved at least one full grade.
100% of our high school graduates in the past 5 years were accepted to college.
Graduating members have the opportunity to apply for scholarships, offered to the Boys & Girls Club from our generous donors.
Through use of proven academic improvement strategies, the Boys & Girls Club of Worcester offers children a place to turn where they can BE GREAT.