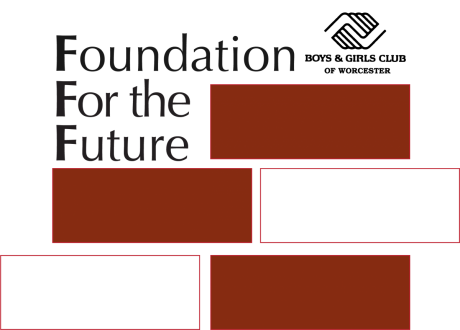 "The Boys & Girls Club of Worcester has helped me discover the powerful woman, and leader, within me. With those skills I wish to be a voice for the voiceless, and show others that we can break the box society traps us in."
- Tyra Jenkins, 2021 Youth of the Year

Our organization has been serving the children of Worcester since 1889, and we have been growing and strengthening ever since. An endowment will help ensure we are able to continue providing top quality Club experiences and maintain our state-of-the-art facility for generations to come.
Our Goals and Priorities
Our goal is to raise $10 million in the first 5 years for the endowment. Hitting this milestone will ensure we can execute our top priorities including:
Build capacity to strengthen our organization in order to improve the Club experience for our members, and increase our financial assets and resources.
Preserve and maintain our state-of-the-art facility with ongoing maintenance and capital improvements.
Increase program quality so members receive a fun and safe Club experience which provides a sense of belonging and strong skillset to succeed in the future.
Reach even more youth through innovative online initiatives and by strengthening partnerships with local schools, nearby communities, and like-minded nonprofits.

Ways to Invest
All gifts to the endowment—no matter the size—will continue to grow over time, along with our Club and kids, making an even bigger impact for the future. There are several ways to give to the endowment:
Take advantage of our named gift opportunities which include sponsoring different areas of our Harrington Clubhouse such as Kid's Café, the gymnasium, the outdoor patio overlooking the athletic field, and more.
Become a sponsor of our "Great Futures" wall with a gift of $10,000 or more to our endowment campaign.
Become a member of our Heritage Planned Giving Society.

Include the BGCW in your IRA plans, your will, or your life insurance policy.

Purchase a brick as part of our "Pathway to Great Futures" walkway in front of our Harrington Clubhouse for $500 or $1,000 in honor of someone special that will represent a piece of our Club's foundation.
Who We Are
We serve Worcester's children and teens from under-resourced areas including Main South, Great Brook Valley, and Plumley Village. Without the Club, the majority of our members and their families would have nowhere else to go due to a lack of transportation, limited finances, language barriers, and more.
We serve 8,000 youth a year, 93% of which do not receive services from any other agency.
80% of our members live in poverty (54% of households earning $15K or less a year), 64% live in single-parent households, and 88% identify as people of color.
An estimated 30% of our members have specials needs , most often with emotional or learning difficulties and 20% have IEPs.
At any one time, we have 500 members who are in-crisis, and 75 who are gang– or court-involved.
Although an annual membership is $25, it costs our Club approximately $600 per child a year to provide our life-saving programs.

One third of Club kids volunteer in lieu of part or all of the $25 annual membership fee.
Our Impact
In the past 5 years, we have acquired a new site in Webster/Dudley, increased our outreach by 2,000 youth annually, built a community food pantry, completed significant health and safety improvements to our facilities, and invested in quality leadership and program staff. Our impact speaks for itself:
97% of our high school graduates go on to attend an institution of higher learning (100% the past 5 years) with 92% receiving scholarships for merit, need-based, or sports. The remaining 3% are working full-time or have joined the military.
For the past five years, more than 90% of the Club kids and families who access our Individual and Family Support department have moved from crisis to stability or safety.
More than 94% of our kids report that they have a meaningful connection with at least one adult at the Club, higher than both the regional and national averages.
On average, we provide 250 families a week with food assistance.

For information on the endowment or to setup a meeting, please contact with Liz Hamilton, executive director of the Boys & Girls Club of Worcester, at
(508) 754-2686 ext. 201
lhamilton@bgcworcester.org