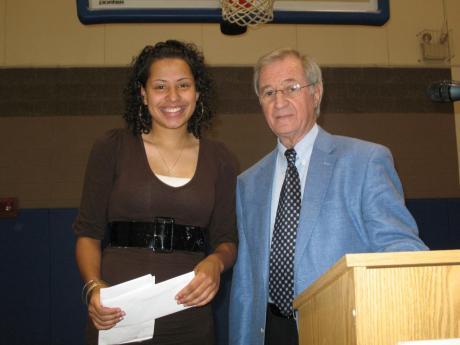 Sometimes all it takes for a child to excel is an adult that believes in him or her. For many of our youth, Club staff are the first and sometimes only ones in their lives that help them believe they can achieve academically. Our Club scholarships, along with our education program, SAT prep, college tours, and other initiatives, help our members see college not only as a possibility, but as a reality. In 2011, thanks to the generosity of our donors, the Club provided college scholarships for eight members who exhibited exceptional character, academic achievement and civic responsibility.
Our members understand that they're not alone, and that the Club will provide financial, emotional, and logistical support to encourage their hard work and dedication to their futures. Most students are put on an educational track in middle school that determines whether or not they are headed for college, and students who don't see college as an option for them, will gravitate towards the easier school tracks. This lack of motivation then leads to the growing drop out crisis. The Boys & Girls Club of Worcester, with the help of our donors and volunteers, is committed to breaking this cycle and ensuring our kids get the support they need to achieve academic success.
Sponsoring a scholarship and helping make college a more attainable goal for one of our kids is a great way you and/or your organization can become involved at our Club and in our community. For more information, please contact Liz Hamilton.