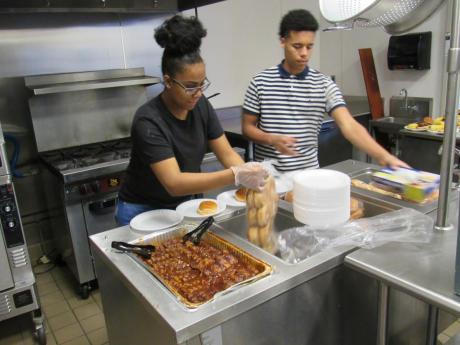 86% of Club alumni report that the Club impacted their ability to work with others.
-The Harris Survey of Boys & Girls Club Alumni
The Job Readiness Program primarily focuses on teen members at the Boys & Girls Club, and offers a valuable resource in their career path and planning. Our Club is a place where they can gain leadership skills that make them more employable in the workforce and better prepared to apply to and succeed in college. The 12-week job readiness program consists of:
Resume writing courses
Interview technique training
Workshops that address job application completion and dressing for success
Courses and activities with an emphasis on leadership and community service.
Certification courses (lifeguard, ServSafe, etc.)
Thanks to job shadowing programs provided by Old Navy, and workshops by Herlihy Insurance and other companies, teen members have the opportunity to experience different work environments, explore new career paths and learn new skills. Our partnership with Central MA Safety Council provides FREE driver's ed courses at the Club for our teens, which is becoming an integral part of finding a job as a youth, as well as an important part of their independence.
From assistant program staff to certified life guards, members gain real-life experience, give back to the Club, mentor children, and oftentimes earn what is their first paycheck.
Our results speak for themselves:
Hundreds of teens have found employment though our job-ready programs either at the Club or elsewhere.
Over 500 teens have completed our driver's ed program.
400+ middle-schoolers have completed our babysitting certification program.