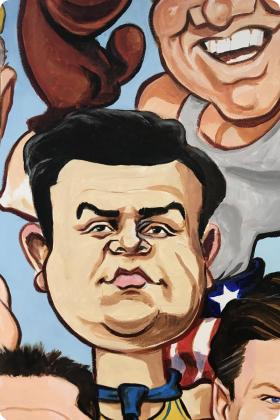 Alex was born in Costa Rica and moved to Worcester when he was 6 years old. He grew up in Plumley Village with his parents, older brother and two sisters. He attended Belmont Community School, Worcester East Middle and Worcester North High and went on to attend Syracuse University.
Alex began attending the Lincoln Square Boys Club at around 8 years of age and it didn't take long for it to become his childhood haven. He would eagerly be waiting outside its doors every day at 3 pm, when the club opened and on many nights, would need to be told to put the ping pong paddles or foosballs away, because the club was closing. Alex took advantage of everything the club had to offer. From the games room where he loved playing pool, air hockey, ping pong and his all time favorite, foosball to also participating in basketball, soccer and swimming and the summer camp programs. The club truly had it all.
One of Alex's most memorable moments was the opportunity to go to San Francisco as part of the Keystone Club. Traveling was not a luxury his family could afford so being able to go to California was profound for an 11 year old kid. To illustrate this point further, in one of their road basketball games, when the team arrived to the facility, Alex told the coach how pretty this town was and what fancy houses everyone had. He asked the coach what town they were in Coach replied, "This is the JCC on the west side of Worcester."
For 6 years, the club was Alex's home away from home. Many of life lessons were taught and learned at the Club. It was a place where Alex learned the importance of friendship, teamwork, communication, conflict resolution, leadership and determination. All of these became instrumental skills throughout Alex's life both personally and professionally. After college, Alex began working at the Worcester Housing Authority, where he started as a temporary employee. It was those skills that he learned at home and the Club, along with his "do more" attitude that helped Alex quickly rise through the ranks, and ultimately to Executive Director.
Alex is married and raising 3 children and uses his experiences and time at the Boys & Girls Club as teaching moments whenever he can with his kids even when it means he'll get a roll of the eyes for telling once again, another story from his youth.
The closing of the club felt more like a funeral. It was a place that was engrained and weaved so much into Alex's childhood that the thought of it not existing, was simply not imaginable. Even after it closed, there were times that he would walk by it and check the doors, just to see if maybe someone changed their minds and re-opened it.
The club's influence on Alex was not simply through the other kids attending but also the staff that provided guidance, direction, support and discipline. One of Alex's biggest influences at the Club was Charlie Brace, the volunteer basketball coach. He would make all the players wear a dress shirt, tie and pants to every road basketball game.
"You only get one chance in life to make a first impression", he would say to a bunch of 11 year old clueless kids that just wanted to play basketball. Despite the moans and groans, Coach Charlie would not budge. Coach Charlie would go on to give advice at each practice and every bus ride to games, and probably became frustrated that it wasn't sinking. However, like a seed, sometimes it takes time for the roots to form and grow.
A lot of Coach Charlie's advice on life are the same techniques and advice that Alex's provides to his own children, the kids he coaches in soccer and those under his care at the WHA. Alex now works on Belmont Street, a mere 100 yards from the apartment he grew up in at Plumley Village. He still drives by the old Lincoln Square Club, and although the urge to check the doors has now faded, he can't help but smile each time, as he reflects on all the wonderful memories and the impact the club had on shaping him to the person he is today.