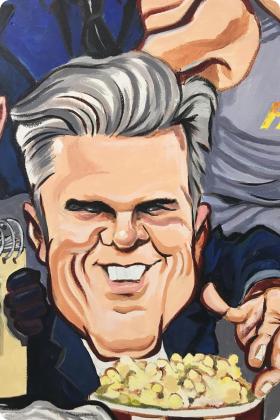 It was a Saturday morning ritual for young Joe Early and his brother Mark. "Our mother would drop us off at the Boys Club at 8:30. We'd stay all day," Joe
remembers. Sessions at the snaps table, basketball and swimming were young Joe's favorite pastimes; unlike many of his peers, he did not take to boxing.
"I visited the boxing room once, got my nose bloodied and went back upstairs for good," he says. The Boys Club for him was a place where he forged friendships that remain to this day. "There was no better place to be with a cross section of kids than the Boys Club,"he says. "I learned people skills there. If you had a problem with another kid, you worked it out."
Joe grew up in Worcester, the oldest of eight children. His father was a teacher before being elected to the U.S. House of Representatives; his son remembers the struggles of his early years. "We heard the words, 'No, we can't afford it" a lot," he says, "but the one thing we could always afford was the Boys Club membership."
Another favorite Boys Club memory is the Saturday afternoon movies. "Whoever had a dime would buy popcorn and we'd all share it," Joe says.
The experiences at the Boys Club resonated; as the Worcester County District Attorney, Joe has focused on youth and the Juvenile Court. He has bolstered the District Attorney's outreach, providing programs on sexting, safe dating, distracted driving, domestic violence and internet bullying.