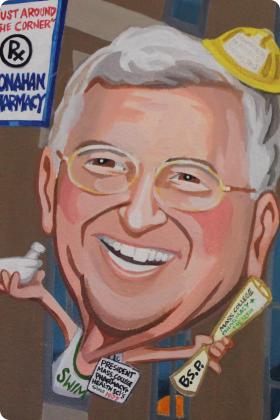 Charles Monahan shares a bond with the Boys & Girls Club. For more than 30 years, his family business, Monahan Pharmacy, was located on Main Street just blocks away from the Club, and he still maintains ties to the neighborhood. Charles is one of the many alumni of the Boys Club on Ionic Avenue. He recalls walking there form his family's home on Vernon Hill. "All the kids in the neighborhood walked there," he said, remembering the games of basketball in the Club gym and swimming in the pool.
Decades later, as President of Massachusetts College of Pharmacy and Health Sciences, Charles contributed to the construction of the Tainter Street building that now houses the Boys & Girls Club of Worcester. "I remember what it was like to grow up in a cold water flat," he said. "The Club was a place we could go for activities."
Charles sees the Boys & Girls Club of today meeting the needs of another generation of youth growing up underpriviledged. "I believe in the Boys & Girls Club," Charles said. "I can see how it is motivating and helping young people go on and have a better life."