Worcester Police Department Gang Unit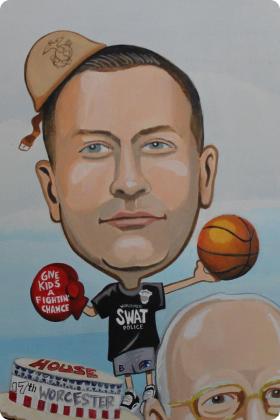 "My Dad was a state trooper, and I wanted to follow in his footsteps," shared Tommy. A Worcester Police Office for fourteen years, and Gang Unit member for five, Tommy also serves on the S.W.A.T. team. Before his time on the Worcester Police Department, Tom served our country in the Marines, and spent time in Paris Island, Camp Lajeune, North Carolina, and Okinawa, Japan.
Tommy's younger years were often spent at the Boys & Girls Club of Worcester's Iconic Ave. Clubhouse. Actively involved in basketball, he played at the Club. His practice paid off, when his team made it to the New England Basketball Finals in the late 1980's, and he received the Unsung Hero award.
When not playing basketball, Tommy enjoyed boxing with Carlos, who was not only his coach, but a life-long friend. The Club is different today...a different building and location. But Tommy still feels like the Club is home. In his view, the Club is "one of the best organizations in the nation. My relationship with the Club, the kids, and the staff means the world to me. I don't think there's any other place that does more for the city."