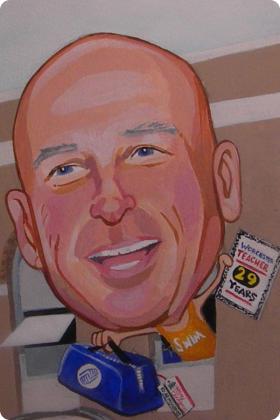 Barnicle has traveled a unique and memorable road with the Club, going from Club kid in the 50s and 60s, to program director in the 90s, to Alumni Hall of Fame inductee today.
As a Club kid, Gerry spent most of his time in the gym, in the pool, or in the games room at the Ionic Ave. Clubhouse. He enjoyed spending time with his brother Stephan (Hall of Fame Class of 2009) and making new friends. A typical day for Gerry as a ten-year old at the Club was to go for a swim, watch cartoons or a movie with some popcorn, go down to the games room to play snaps or to the gym to play basketball, and then to head home. It was simple back in those days, but meaningful and fun nonetheless. Being told he was an important person and a special kid meant a lot to him then, and still means something to him now looking back. Gerry was very fond of former staff members Charlie Bunker and Mario Sarro. They kept him in line and taught him a lot about being confident, staying true to himself, and being a good person. When Gerry was a teen, he would still go to the Club every day to help the younger kids with their homework and reading. This is when Gerry discovered he had a knack for helping kids.
After graduating from St. Peter's High School, Gerry went on to study education at Worcester State College, and then on to Bridgewater State College where he received his Master's in education. After graduation, Gerry dove right into teaching and spent the next 29 years teaching for the city of Worcester. He first became a teacher at Holy Name High School and taught there for 19 years. In that time Gerry also spent time coaching, as the athletic director and then as a minister for the school. Gerry was one of the first Eucharistic ministers at Holy Name, and helped establish some strong programs at the school that are still very successful today. Gerry also spent 12 years as a teacher in the public school system, teaching at alternative schools. This was especially rewarding to him, as he was able to play an important role in helping kids give up their troubled pasts and move toward better futures. Gerry was also a valued program director for the Ionic Ave. Clubhouse in the mid-nineties. Some of his most cherished memories come from that time. He still remembers the looks of sheer happiness on the kids' faces when they were presented with a gift for the holidays or an award for being a great Club kid or doing well in school.
He also has fond memories of the Club and the wonderful staff he was lucky enough to work with including Vince, Tom, Ian, Sean, Todd, Ernie, Bobby, Carmen, Carlos, Julie – and will never forget how much they did for all the kids.
Gerry and his family have been very supportive of our Club and can't express the importance of community support. Gerry has another connection to our Club: Back in 2006, his sister Mary Beth and her husband Rob provided funds to build the new music room and recording studio at the Main South Clubhouse, in honor of Gerry and Mary Beth's parents. Gerry thinks the Club is a great place for kids to grow because it features essential things for today's youth. There are loving, caring, supportive staff who are positive influences on our kids; there are activities for all ages that focus on a variety of interests; and most importantly, it's a safe place that keeps our kids off the streets, out of trouble, and on the right path. Gerry considers the Club a truly solid investment. "What else is more important than shaping a child's life, someone who will be leading the world someday? Look at the kids here today, these are our future police chiefs, congressmen and women, Olympians, and our future "Gerry Barnicles" – who may not be well-known, but devote their lives to helping shape kids' futures as teachers and educators."
Today, Gerry lives in Maine with his partner, Gail. When he's not busy teaching in the schools or driving tour buses for a local travel company, Gerry enjoys theater and music, including singing in a barbershop quartet. He's been singing since he was six years old, and even got the chance to sing for JFK when he was just nine. Gerry's also a member of the 4000 Footer Club having climbed all 48 mountains 4000 feet or above in the White Mountains of New Hampshire… some several times. He also does a lot of volunteer work in the White Mountains, and enjoys spending time with his two sons.
Gerry was ecstatic to find out he was being inducted into the Hall of Fame. To Gerry, "It's one of the most meaningful times in my 65 years where someone is saying thank you Gerry for what you've done in your life to help make a difference in someone else's." He is honored to be in the company of all the other Hall of Famers and can't express his gratitude for the Club and all it has done for him. According to Gerry, his experiences as a Club kid, and then as a program director for the Club, have undoubtedly helped him become the man he is today, and for that, he is forever thankful.