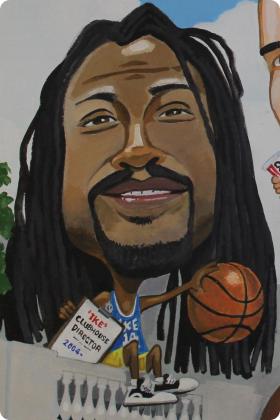 He has a mischievous smile, a quick wit, and a big heart. He is James Isaac McBride, aka Ike, aka Dad to almost 4000 Club members that walk through the doors each year.
Ike lives and breathes the Club. As a young boy, his mother, Mary Jardine, remembers him "practically living at the Lincoln Square Clubhouse". The same can be said about him today as a Clubhouse Director- he is always available to help the staff, kids, and parents that are all a part of our Boys & Girls Club family.
His love for fun is contagious. Ike encourages staff and kids to let loose, be themselves, and find the joy in life. He will often be found walking down the halls singing a song (badly) and doing creative dance moves. He's the pied piper of our organization.
Although he loves to joke around, he takes his job very seriously and he understands that he has an important role in nurturing the lives of kids, many of whom see him as a father-figure. His ability to make kids feel special is seen in the champion girls basketball teams he has coached for several years. He helps the girls see their strengths and develops them both as stronger players and better people. Currently 8 of the girls that have played on his team are now college basketball players and they have Ike to thank.
Joe Hungler, Director of Operations, has this to say about Ike, "He has done so much for our organization. He was instrumental in the transition of moving from our Ionic Ave. Clubhouse to our new Main South Clubhouse. It is a tribute to him that within 3 months of us opening our doors to the new Clubhouse we had 1000 new members. It was his leadership that helped us grow and become a premiere youth development organization." Ike worked at the Club for 20 years before pursing a new career path.