Sports, Fitness and Recreation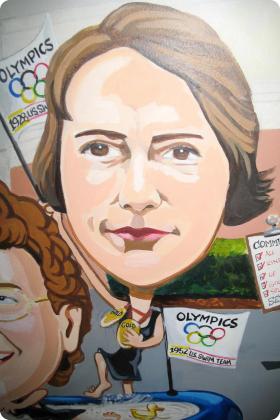 When Albina Osipowich boarded the SS Roosevelt in July of 1928 bound for Amsterdam, the host city for the Summer Olympics, she never thought that a pool, a stop watch and all her hard work swimming laps and racing the boys of the Boys Club of Worcester would earn her a spot in history. But they did just that. In just a few short weeks, Albina Osipowich went from an ordinary 17-year old who spent her time at the Club racing other boys for any decent competition and beating her own time, to breaking world records, earning two gold medals and beating the world's best swimmers. She also earned herself a spot in local history being the only athlete from Worcester to have ever won a gold medal at the Olympic Games.
Upon her arrival back to the States, Albina received a warm welcome home. The people of Worcester were so moved by her story that they raised enough money to send her to Pembroke College in Brown University where she continued to make history. In 1930 she became the first woman ever allowed to swim an exhibition in the University's pool and in 1984 was post-humously inducted in the Brown Hall of Fame. It was also there at Brown where she met her future husband, a basketball player named Harrison Van Aken. "Her story certainly is the quintessential American Dream," said Albina's granddaughter Kristin. "She was the daughter of immigrants who didn't have the money for her to go to the Olympics or to college, and she was able to achieve both of those dreams and goals."
Albina spent the following years being a devoted wife, mother to the couple's two sons, Harrison and David and just enjoying life traveling with her family all over the United States, from New York to Virginia and even to Arizona. However swimming always had a special place in her heart and the water is where she loved to spend most of her time. Her son David tells stories of her saving a struggling swimmer at a beach during a family outing and always trying to show kids how much fun swimming could be despite their fears. "If you met her you might never guess that she was an Olympic Champion. But if you saw her swim, well, that was another matter," said her son David.
The same was true for the world when the young 17-year old showed up in Amsterdam for the Olympics back in 1928. To many people, she was just a young girl who loved to swim at her local Boys Club. But with her perseverance and her inimitable passion for the sport, she proved otherwise and made history in the process. "If you really want something, go out and try it," said David. "The only time you lose is when you don't try something. Who knows, maybe if you get really good, you may get all the enjoyment and success, too. Don't be afraid to try things."
Tonight we honor Albina, whose story shows our kids that with passion, drive and perseverance, you can achieve your goals and dreams, no matter what they are and what obstacles you have to overcome.