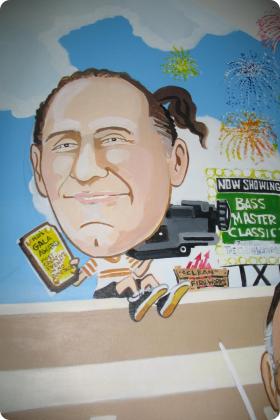 As a boy, Jackson Madnick found a creative outlet at the Boys and Girls Club on Ionic Ave. which pointed the way to his future as an artist. It was at the Club that he was first introduced to drawing, woodworking, design and the joy of making things. Without the Club, he says he would not have developed these skills which helped him later when he went on to study engineering, painting, design and film making. Aside from a career path, however, the Boys and Girls Club gave Mr. Madnick as sense of self-worth and being part of something that enabled him to grow and experience while learning skills that remained valuable throughout his life.
Add to the influence of the Club on Mr. Madnick that of his mother, who nurtured his appreciation of the environment and the importance of giving something back to society, and you have a man who has channeled his art into environmental causes and whose work has been recognized by the highest levels of government, such as the White House, and international organizations. Mr. Madnick's work has served such causes as the Clean Water Act, energy efficiency and the United Nation's Earth Summit, which was a global event. His art, however, also hangs in museums and galleries around the United States and part of Europe and he has received numerous awards for his work.
If anyone can be a testimony to the good work and value offered by the Boys and Girls Club to the kids of today, it is Mr. Madnick. He still recalls being encouraged by the Club's teachers in art and woodworking over a half-century ago, and still recalls fondly the sense of camaraderie with the other boys at the Club, as well as how he and his brother could walk down to Ionic Ave. on Saturday mornings to watch the serial movies there. Mr. Madnick is living testimony of what the Club can mean to a kid.