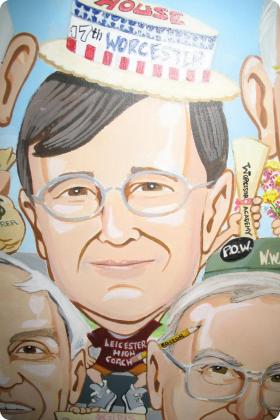 From the happy days of his youth, playing snaps and sharing stories with his friends at the Ionic Avenue Clubhouse, to the high-pressure halls of the Massachusetts House of Representatives, John credits the Club as keeping a young boy from Main South out of trouble. At the Club, John enjoyed swimming, boxing, and playing basketball. "The Boys Club to me was a place to be with my friends, make new friends, share experiences, and develop character. It was great to have a place to go and be together and share good times."
Leveraging the skills he learned at the Club, John played basketball at St. Peter's and later coached basketball at Leicester High School, where he taught for 18 years. A 1970 graduate of Worcester State College, he is in his 10th term as State Representative to the 17th Worcester District. John serves currently as the Chairman of the House Revenue Committee, former chairman of the Energy Committee, former vice chairman of the Committee on Public Safety, and former member of the committee on Rules, Ways and Means, Election Laws, and Federal Financial Assistance.
At the Club, "I learned communication skills that helped when teaching and speaking before the House of Representatives and my constituents. The Boys & Girls Club helped me to grow up caring about people, learning respect for others, and wanting to contribute positively to my community. Without the Club to go to, where we could be safe and constructive, who knows how different my life could have been. It helped me to appreciate the staff, and formed my character."
The son of the late Ted and Mary (O'Coin) Binienda, John lives in Worcester and is the father of three children: Julie, John Jr., and Jamie.