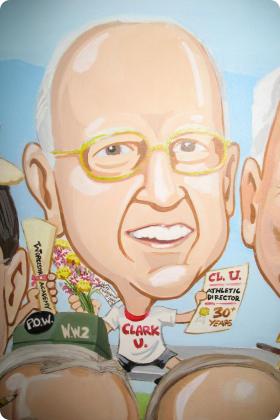 Russ has spent his whole life around athletes and locker rooms. As an acolyte of Coach Charlie Bunker, with his best friend Paul Rittburg he spent many a happy hour on the Club's courts. All the practice must have worked because he was a member of Ionic Avenue's outstanding varsity basketball team for two years. It seems however, that Russ took something else from the Club. It was here that he met his wife Katherine. They were married for 67 years.
His athletic prowess followed him outside the Club and into the future. While at Worcester South High School, he was a member of the championship football and baseball teams. At Worcester Trade School, he was a member of the undefeated basketball team.
Russ happily turned his love of sports into a full-time career. At Clark University, he served 20 years as the varsity golf coach and varsity basketball coach. For 30 years he has been the university's athletic director, and directed the Clark University High School basketball tournament. Russ' professional memberships include the New England College Athletic Conference (NECAC) – president for one year; Eastern College Athletic Conference (ECAC) and the National College Athletic Conference (NCAC).
Even in retirement, Russ enjoys basketball, baseball, golf and tennis. "Everything that I was involved with at the Club contributed to my good fortune for the rest of my life."
Russ lives with his daughter in Leicester. He and his wife Katherine raised four children – John, David, Nancy and Paul.