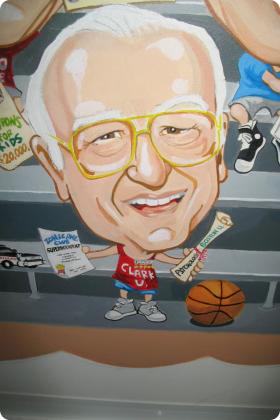 Vin joined the Club in 1927 and spent his last seven years working for the Club. He was a member of the Commerce High Varsity basketball team and played alongside Chet Jaworski in the NE Tournament. Vin attended Clark University and played varsity basketball (1934 and 1938). He played on the Ionic basketball team (1935-1937) and was in the NE championship tournaments.
After earning an AB Degree from Clark University and on the recommendation of David Armstrong, William S. Gilliam and Robert C. Cole, Vin was nominated for a Boys Club of America work/study fellowship to Columbia University School of Social Work aiming to professionalize Boys Club work. Following an interview with H. Averill Harriman (who later became ambassador to England), Vincent was selected from a national list of candidates. With an MS in social work from Columbia University, Vin accepted a position as assistant executive director of the Ohio Boys' Club in Toledo, and became a member of the National Program Committee, Boys' Clubs of America. In 1942, he was named executive director of the Washington Boys Club in Tacoma, Washington.
Vin's Club career was interrupted by WWII, when he volunteered for the U.S. Navy. He served as the commissioned executive officer on a secret gunboat in the Pacific and was awarded five Battle Stars. Following the war, Vin spent the next eleven years as the superintendent of the Ionic Avenue Boys Club, succeeding William S. Gilliam.
Vin earned a Master of Arts in education and a Doctorate in educational psychology from Boston University, and was named an associate professor of American International College. He then began a full-time private practice as a clinical psychologist and a licensed independent clinical social worker.
Vin and his wife Jeannette have one son, Gary.