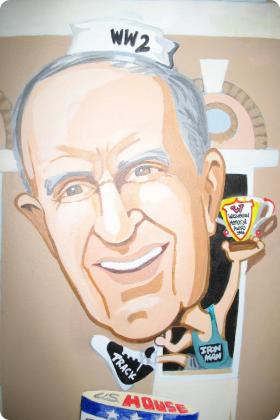 Like thousands of others looking for a better life, Peter Vasil was born in Albania and came to the US in 1936. In spite of not being able to speak English, he joined the Ionic Avenue Boys Club that same year. Obviously the Club's offerings transcend the boundaries of language.
Peter graduated from elementary school and went to Worcester Boys Trade School. In 1941, when he had been in this country for less than five years, WWII started. Like many Americans, he did what he felt he must and responded to the call of his new homeland. "I had my father sign papers allowing me to leave school and I enlisted in the US Navy. I was 17 years old. I returned from the service, went back to complete high school, and graduated in 1948."
Not only did Peter return to school, he returned to the Club. He lived on Charlton Street, two streets from the Club. "Peter practically grew up at the Club after he got out of the service," according to long-time friend Gabe Simon. He worked as a lifeguard and was on the swim team. Art Crowley was his coach. Under the guidance of Charlie Bunker, Peter played on the 1947-48 Ionic Avenue basketball team. One year they won the Eastern Massachusetts Championship and the other year the Western Massachusetts Championship.
In 1946, Peter won the coveted Washburn Memorial Award. Similar to the current Iron Man competitions, he competed against forty other young men in events such as track running, swimming, pushups, and pull-ups for the honor of being the Outstanding Athlete at the Boys Club.
After discharge from the service, Peter also played with the Baroni Glass basketball team, which led to a job with Bayer & Mingolla Construction Company where he worked for 30 years.