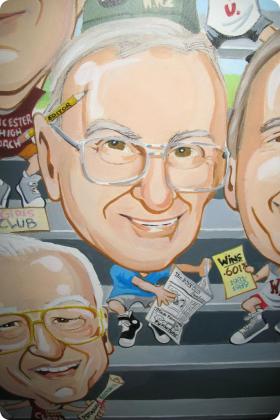 It was some 72 years ago that Irving first became a volunteer. As the 14-year-old founder and editor of the Boys Club Newsletter, he also became the resident expert at operating the organization's new mimeograph machine. "Soon the staff was saving all the notices for me to mimeograph besides the newsletter," Irving recalls.
A pattern that was to be repeated throughout his life emerged from his experience with the Boys Club. Anyone who has served with Irving Yarock on committees, boards, and in the service can attest to his willingness to do more than the job at hand.
A quiet, unassuming expectation that others will follow his example has characterized Irving's style as a leader. Underneath his soft-spoken manner, however, is a strong will. Whether it was supervising maneuvers as an officer in the U.S. Army and later as a colonel in the Army Reserves, finding housing for people with mental illnesses, or organizing activities for his fellow elders, Irving has gotten the job done efficiently and effectively. His outstanding efforts as a volunteer for 23 non-profit organizations in Worcester have made life better for hundreds of people of all ages.
As a member of ROTC, Irving was called up in 1941 to serve in WWII. He saw combat duty in Africa, was captured, and held as a prisoner of war for 27 months. His group was liberated by the 14th armored division in 1945.
Irving worked in the family furniture business, the Star Trading Company, until 1969 when the business closed and the property was sold. From 1969 until his passing, Irving was a full-time volunteer. A typical day included at least four board or committee meetings. "I don't understand people who say they're bored when they retire," Irving says. "There are plenty of jobs to do for people who are willing to give of themselves."