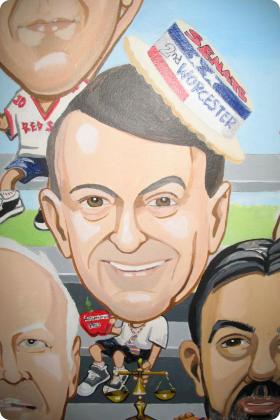 John J. Conte is the District Attorney for Worcester County.
Born and raised in Worcester, John graduated from Holy Cross College and the New England School of Law. He and his wife, the former Elizabeth L. (Betty Lou) Nugent have four children: Nancy, a teacher; Joseph, a lawyer; Thomas, a former Captain in the U.S. Army and a lawyer; and Timothy, a law school graduate and an Assistant Clerk in District Court.
In his professional life, Mr. Conte has served Worcester well. He taught American Government at Assumption Preparatory School in Worcester and courses in the Worcester Public Schools. Following his time as a teacher, he spent fourteen years as a member of the Massachusetts State Senate representing the Second Worcester District. In the Senate, he served as Chairman of the Judiciary Committee and the Special Committee on Judicial Reform, and was a member of the Governor's Select Committee on Judicial Needs. This committee, chaired by former Watergate Special Prosecutor Archibald Cox, was instrumental in bringing about comprehensive reform in the state court system.
Following his years in the Senate, John became Worcester County's District Attorney (Middle District). Since becoming DA, he has instituted numerous changes to create a professional prosecutorial office. These changes include establishment of the Victim/Witness Program, regular monthly grand jury sittings, and assignment of prosecutors to each of the ten district court session sites. He has also established specialized units to handle child abuse, disabled person's protection unit, elder abuse, juvenile justice, drug enforcement, civil rights, open meeting law, mental health matters, a domestic violence unit, and the District Attorney's Community and School Project – a school outreach program. John's energy and leadership as the District Attorney for Worcester County has made him a central and active figure in the criminal justice system.
Mr. Conte is a member of the Massachusetts Bar Association, Worcester County Bar Association, a life member of the Massachusetts and Worcester County Bar Foundations, the Massachusetts District Attorney's Association and the National District Attorney's Association.