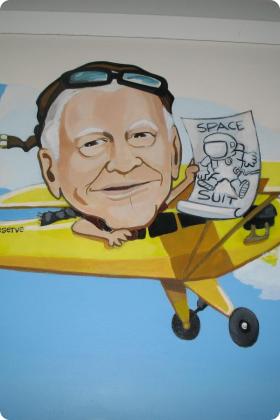 At age 15, a slender, quiet Vernon Hill boy of Lithuanian extraction – Joe Ruseckas – began hovering around the grass field that was the North Grafton Airport. Joe was an outstanding basketball player at the Ionic Avenue Boys Club, and played on a team that was considered one of the finest in Club history. The team was loaded with great players, including Stan and Chet Warner. Joe played sports at Commerce High, and later at Clark University. When the war came, Joe received a direct commission in the Army Air Forces and went right to work as a ferry pilot. After transition training, he handled fast fighter and bomber planes, flying them from the factory to the point where they would be shipped or flown overseas. He found that military planes required more "flying" than civilian aircraft.
Later, with the ATC, Ruseckas flew the "Hump" in India. During this period he had "an unusual lack of trouble," for which he was awarded an Air Medal. The record mentioned 1,150 hours and 12 months of flying without an accident of any kind.
David Clark, owner of the David Clark Company in Worcester, took a liking to Joe when he visited the North Grafton Airport. Joe joined the company in 1948, when he was employed as a company pilot and development team leader for space-age clothing and equipment. His work at David Clark resulted in the design of a combination altitude suit and blackout suit, which saved the life of Major Car Everest, the Air Force experimental pilot. Everest was flying the Z-1 aircraft when he lost cabin pressure at a high altitude. Under Joe's direction, the suit was later developed into a range of sizes to fit most pilots from stock. Joe was also instrumental in the development of a different altitude suit for the U.S. Navy.
In his work with David Clark, Joe Ruseckas was closely associated with many aerospace engineers, design teams and test pilots who built and flew aerospace vehicles. Many airmen-astronauts, including the Mercury group of John Glenn, Alan Shepard, and Gus Grissom, quietly visited the Clark workshops to chat with Joe. In 1975, Joe, along with eight other officers and employees of the David Clark Company, purchased the company to prevent its possible relocation.
Joe was a major in the Air Force Reserve, and served as Assistant Training Officer for Worcester's 9047th Air Reserve Group. In 1959, he commanded the Worcester Chapter, Air Force Association. Always promoting aviation, he occasionally conducted tours of the Worcester Airport for young people.
When Joe retired from the David Clark Company in 1987, he didn't receive the usual watch and pat on the back. Instead, he was presented with the bonus of a lifetime – a sleek, low-wing, four-seat Beechcraft Bonanza, the very plane in which Joe ran thousands of flight hours.