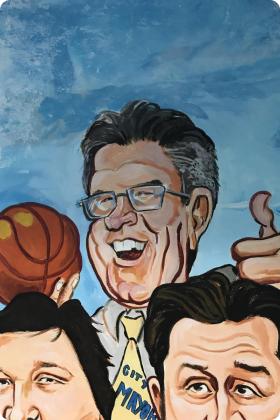 Tim Cooney began his 10-year membership at the Boys Club on Ionic Ave. in 1946 where he sharpened his basketball skills. From there, he went on to become a star athlete at Saint John's High School and Assumption College.
Tim channeled his basketball skills into coaching at Boy's Trade School, Nichols College, and Becker Junior College. He was also a teacher during his years at all three schools. Tim was a long-standing Worcester City Councilor from 1980-2000, and acted as Mayor in 1987, during which he signed a Sister City Agreement between Worcester and Pushkin, Russia.
Tim has been the Director of Central Massachusetts Safety Council (CMSC) since 1975, during which he founded CMSC Motorcycle School in 1982, and CMSC Auto School in 1986.
With 80% of our youth living at or below the poverty line, the expense of drivers ed is far out of their reach. Looking for a way to give back to the Club, Tim, along with Executive Director Liz Hamilton, came up with a plan to offer a free in-Club driver's ed course for our teens. Since the pilot class in Spring 2017, together, we have helped approximately 85 youth attain their learners permit. This is a crucial step towards independence, responsibility, self-esteem, and acquiring a job. Tim has been married to his wife, Joyce A. Katter, since 1966, with whom he has three sons and four grandchildren.