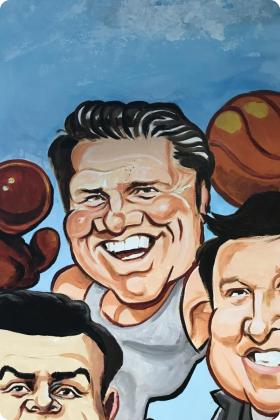 Ed remembers shooting hoops and swimming at the old Ionic Ave Boys Club. He also went swimming with gym classes from Columbus Park School at the Club. A 1980 graduate of South High, Ed led the Colonels basketball team in scoring his senior year. He then went to UMASS-Amherst where he began boxing. Fighting out of the Exchange Street Gym, Ed won several AAU and Diamond belt titles along with the 1984 Western Massachusetts Golden Gloves titles in the Middleweight division. He represented the USA and New England in several bouts, including fights at DCU and in Canada. During this era the Boys Club would close during summer and the boxers from the Club would work out at Exchange Street. It was during this time that Ed became friends with Boys Club trainer Carlos Garcia, a friendship that continues today.
In 1986 Ed began working as a teacher/coach in the Worcester Public Schools. In 1991 he became the head basketball coach of Doherty High Basketball Team, taking over a program that had struggled through 4 straight losing seasons. Over the next 16 years Doherty became perennial contender, qualifying for district play in 14 out of 16 seasons, including 12 straight trips to the tournament. The 1997 team went to the district finals and the 1999 team went to the semi-finals high lighting the run. Ed left the coaching ranks after 16 years and 200 victories in 2008.
Today Ed works at Doherty as Assistant Principal. He lives in Worcester with his wife Ellen. They are proud parents of Eddie and Emily.