Worcester Police Department Gang Unit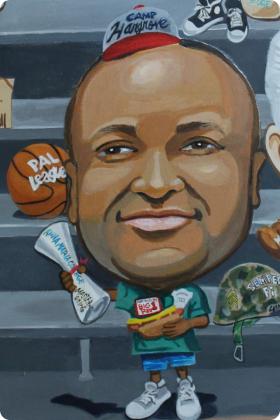 Spencer has fond memories of the Club. The youngest of four boys, he remembers that Saturday was movie day at the Club. They would watch a movie and eat hot dogs, enjoying time with friends in a safe place. During the week, Spencer enjoyed boxing, swimming and basketball, making full use of his Club membership. During the summers, Spencer visited Camp Hargrove, and enjoyed the change of environment from the city. He's happy to be inducted into the Hall of Fame this year, along his fellow Gang Unit members, as well as the late Gordon Hargrove, who he remembers as the Club's Superintendent.
After graduating from Burncoat High School, Spencer served in the Army for 5 years, working as a nuclear/biological/chemical non-commission officer in Kansas. He went on to earn his bachelor's and master's degrees in criminal justice at Anna Maria College. He finds fulfillment as an officer, where he can make a difference in young people's lives. He especially enjoys his job running the PAL league (Police Athletic Association) for at-risk youth.
The Club played a valuable role for Spencer, and he sees the Club as a place that "assisted my parents into making me the person I am today." He cares a great deal for teens, and offers these words of wisdom, "Listen to the people that love and care about you, stay in school, and always have a plan B."