Worcester Police Department Gang Unit/ Co-Owner of CrossFit Center Mass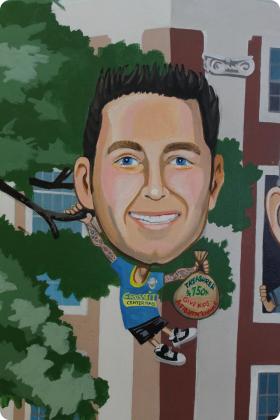 Nate has always had a love for fitness. As a child, he attended the Lincoln Square Clubhouse, and enjoyed basketball and swimming. When he wasn't participating in a sport, he expressed his creativity in the arts and crafts room. Having a creative side, Nate played the drums, and excelled at it, joining and playing in a local band.
After graduating from Burncoat High School, Nate joined the Air Force and served our country in Desert Storm. Wanting to make a difference, he later joined the Worcester Police Department, where he has been for seventeen years. Just four years after joining the force, Nate became part of the Gang Unit and S.W.A.T. team, where he continues to support the community and the lives of young people. Nate is also the co-owner of CrossFit Center Mass, a physical fitness program the addresses all aspects of fitness and athletic ability.
Nate's involvement with the Club was made even stronger when he met boxing coach Carlos Garcia, who worked alongside Nate to organize a fundraiser for children, called "A Christmas Brawl". He later met Tony Salerno (a local attorney), who partnered with him to develop Give Kids a Fightin' Chance. Celebrating it's tenth anniversary this year, Nate is proud that Give Kids a Fightin' Chance has raised over $750,000 for the Club.
Why does Nate continue his ties with the Club? "...helping someone get a job or helping them succeed in school is a positive challenge, and it makes me feel good."