Worcester Police Department Gang Unit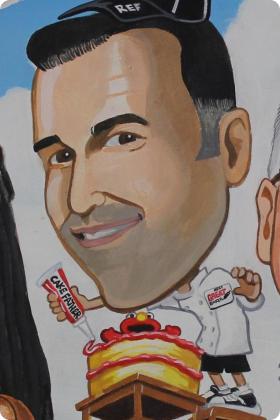 Carmelo learned to swim at the Lincoln Square Clubhouse when he was in third grade. He loved his time at the Club, and described it as "a sanctuary for me...it rovided me with the stability I needed." In his teens, Carmelo moved to the Iconic Ave Clubhouse, and met Carlos Garcia. He immediately found boxing to be a great outlet, and trained with Carlos. Years later, Carmelo still gives back to the Club by refereeing at the Give Kids a Fightin' Chance tournament each May. He has been a professional referee for over 6 years.
A Worcester Police Officer for 17 years, Carmelo retired last year. He quickly found his love for baking to be more than a hobby, and has since appeared on the television show, Cake Boss, where he competed professionally as a cake decorator/artist. His other artistic interests include sculpting and oil painting.
Coming from challenging circumstances, Carmelo worked hard at a young age to help make ends meet. "I worked everywhere, at Wellington Security, at the Quickmart, and anywhere I could make an honest wage." He understands our kids' diverse backgrounds, and how the Club can change their lives. He supports the Boys & Girls Club because "I know that the Club did so much for me. I want to help support an organization that makes a difference in kids' lives. The staff at the Club really cares about kids."