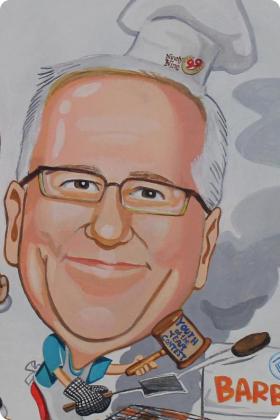 Anthony DeCiccio was introduced to the Boys & Girls Club on Lincoln Square at the age of seven by his father who became a swim champion in the Boys Club pool in Providence. "I went to the Boys Club every day for five years," Anthony recalls that the biggest thrill of his life back then was being on the swim team and winning a medal in competition.
Anthony was mentored by Dick LeHare, the director of the pool. "I became his assistant and got to use the staff locker room. It made me feel like I was someone special," he said. Anthony remembers that the swim coaches were strict. "They instilled a great work ethic in me."
He reconnected with the Boys & Girls Club in 2008 when his employer, 99 Restaurants, introduced a Youth of the Year scholarship for Boys & Girls Club of Worcester members. Since then, Anthony, general manager of the 99 Restuarant on Central Street in Worcester, has spearheaded donations. Each October, he and his fellow store managers host Boys & Girls Club month with proceeds from their special event going to the Club. During the holidays, patrons and staff at the restaurant collect gifts for Club members. Anthony served on the Heroes Day committee and was a guest speaker at last year's commencement event.
"I wanted to let the graduates know how important it is to give back to your community," he said. "It's phenomenal that I've been able to be involved with the Club again through the restaurant."
For his outstanding contributions in Leadership and Job Readiness programs, the Boys & Girls Club of Worcester is proud to welcome Anthony DeCiccio into the Hall of Fame.