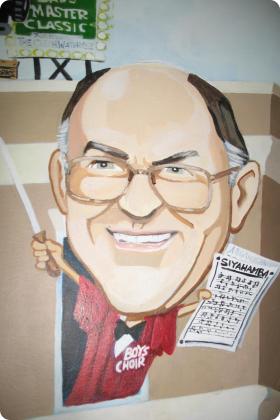 He is a nationally recognized music educator, a private pilot, a published composer and author, a soloist and conductor who has worked all over the world, a husband and a father to four wonderful children. Most noteworthy though, Stephan Barnicle is also a former Club Kid from the Ionic Ave. Clubhouse.
During his time at Ionic Ave., Stephan spent a lot of time in the pool. There he learned to swim, learned life-saving techniques and even passed the lifeguard test. After the Club, Stephen eventually took what he learned at the Club and became a city life guard in Worcester for several years.
Throughout his life, Stephan has been one extremely accomplished individual having won numerous awards for his work with music and music in education. His professional achievements grew from musical expertise as a singer, conductor of choirs and orchestras and a composer, into a teacher with innovative ideas in the music classroom. His ideas led to his National recognition as an exemplary music educator and he was chosen by the Music Educators National Conference (MENC) to contribute to books, articles, pamphlets and to lead workshops at numerous Regional and National conventions.
His achievements include Disney American Teacher Awards Honoree, Who's Who in American Education, Who's Who in America, Who's Who in the World, Who's Who Among American Teachers, UConn Excellence in High School Teaching Award, all in addition to being a published composer and author, soloist and conductor throughout the United States, Canada and Europe.
Today Stephan resides in Fayeteville, North Carolina with his wife MaryAnne and is the proud father of four children, Michael, Patricia, Daniel and Kevin. There he serves as the Director of Music Ministry at the St. Patrick Catholic Church and during his free time, enjoys reading, flying and of course swimming.
Tonight we honor Stephan for his dedication to the Arts and for showing our youth that with faith, devotion and commitment, you can do anything and everything that you set your heart and mind to.