Character & Leadership Development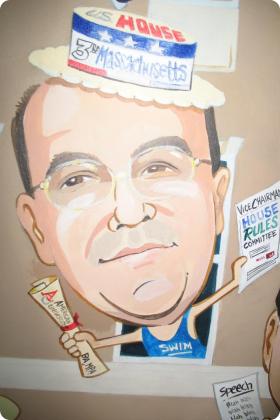 Currently serving his sixth term in Congress, Jim McGovern was first sworn in as U.S. Representative for Massachusetts' 3rd Congressional District on January 7, 1997. He has been elected by his New England colleagues to the House Democratic Leadership team as a Regional Whip, is the Vice Chairman of the powerful House Rules Committee, and also a member of the House Budget Committee.
Before Congress, McGovern worked fourteen years as a Senior Aide for the late U.S. Representative John Joseph Moakley and during those years, earned a strong reputation as a champion of human rights and even lead a congressional investigation into the murders of six Jesuit priests and two slay women in El Salvador in 1989. In Congress, he has championed several education initiatives, has led the fight to provide adequate heath care, has worked to increase funding for the Land & Water Conservation fund; has fought to preserve and strengthen Social Security and has secured millions of dollars in federal assistance to Central and Southeastern Massachusetts.
Jim McGovern was born November 20th, 1959, in Worcester, the son of two successful small business owners. McGovern earned his B.A. ('81) and MPA ('84) from The American University, working his way through college by serving as an aide in the office of U.S. Senator George McGovern and also managed Senator McGovern's 1984 Presidential Campaign in Massachusetts.
He has worked as a volunteer for the Mount Carmel House, an emergency shelter for battered and abused women and is also a member of the Jesuit International Volunteers Board of Directors.
Jim currently resides in Worcester with his wife Lisa and their two children, Patrick and Molly. Jim enjoys swimming, crediting his skills to all the time he spent swimming at the Ionic Ave. Clubhouse and enjoys spending time with his wife and children.
Tonight we honor Congressman McGovern for his commitment to our city and our state and for showing our kids how important it is to stand up and fight for what is right for themselves and for those around them.