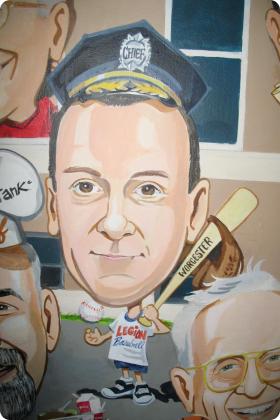 Gary Gemme is a great example of the Boys & Girls Club of Worcester's success. As an Alum, Gary took what he learned and experienced at the Club and applied it to his everyday life, focusing his efforts on education and professional development and success. Currently, Gary serves as the Chief of Police for the City of Worcester.
Chief Gemme attended the Lincoln Square Clubhouse in the early 60s. There he enjoyed participating in Snaps, sports and the Electronics Club with his best Club friend, Mark Laviolette, where he and his Club friends built a fully-functioning radio. Chief Gemme credits much of his success to the values instilled in him at the Boys & Girls Club. The Club taught him that through hard work and dedication he could accomplish his goals and gave him a sense of belonging and a place where he was encouraged and supported. He also credits the Club with providing some truly meaningful memories and friendships during his time there.
Chief Gemme has lived in Worcester his whole life. After graduating from High School, he went on and received his Bachelors Degree from Worcester State College, his Masters Degree in Criminal Justice from Anna Maria College and his Masters in Business Administration from Nichols College.
Chief Gemme is a 26-year veteran of the Worcester Police Department and through hard work and determination climbed the professional ladder of success from a rookie Police Officer to Chief of Police over the course of those years. In 1990 he was promoted to Sergeant; 1993 to Lieutenant; 1995 to Captain; 2000 to Deputy Police Chief and then in 2004 to his current position, Chief of Police for the City of Worcester.
Chief Gemme currently resides in Worcester with his wife Donna and is the proud father of three children, Michael, Jessica and Matthew. In his time away from work, he enjoys exercising, golfing, reading and coaching.
We honor Gary Gemme not only for his commitment to his city and to keeping the streets safer for our children, but for showing our kids that with hard work, drive and dedication, you can work your way to the top.