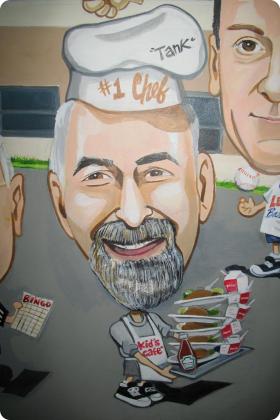 Steve Tankanow is a man with civic spirit. He believes that a community is judged by how it treats its elderly and its young. Accordingly, Mr. Tankanow has been giving to the community for most of his life. After having been a member of the Boys & Girls Club on Ionic Ave. as a kid, he returned to the Club to help start the extremely successful boxing program there and has since been involved with the Club in other ways for over twenty years. The Club was always there for him as a boy and his involvement today allows him to be there for today's kids.
Mr. Tankanow is the owner of the Bancroft School of Massage Therapy. Under his stewardship, BSMT became the first massage therapy school to be licensed by the Department of Education in the Commonwealth of Massachusetts.
His passion and pride—the Kids Café—a private non-profit organization started by Mr. Tankanow is devoted to providing dinner meals to children. Mr. Tankanow has been running Kids Café for ten years. Originally feeding one meal a day to about 50 kids, currently the Kids Café serves between 600 to 900 children a week at the Boys & Girls Club of Worcester's Main South Clubhouse.
Mr. Tankanow has found a way to combine his professional interests with his commitment to the community. He studied nutrition in college, and has always been aware of its social importance. He has gained the support of the Worcester Food Bank and many companies in the area that want to contribute to the Kids Café and has found volunteers to cook and serve nutritious meals to children.
Mr. Tankanow is being honored tonight for his service to the Club and his contributions in the area of Health and Life Skills.