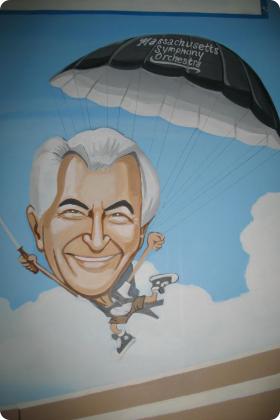 For nearly half a century, Mr. Levenson was identified with the heartbeat and soul of symphonic music in central Massachusetts. He was the founder and conductor of the Massachusetts Symphony Orchestra. Among the noted symphony performances he conducted were the opening of Mechanics Hall in 1977 and of the Worcester Centrum in 1982 and a performance with Luciano Pavarotti at the Centrum in 1985.
He came a long way from his roots—as a boy he attended the Club from 1915 to 1923 and enjoyed playing snaps and marbles with his friends. It was at the Club that he developed his life-long love for swimming. His son, Paul Levenson credits the Boys & Girls Club for his father's longevity; resulting from vigorous lifelong physical activity and exercise he learned from the Club.
In addition to being an extraordinary performer and conductor, his desire to give back to the community was strong. He was the founder and conductor of the Worcester Youth Orchestra and thanks to him, Worcester continues to have the admission-free "Summer Family Concert Series" in Worcester's Institute Park.
Although he is no longer with us, Harry Levenson and his legacy will live on.