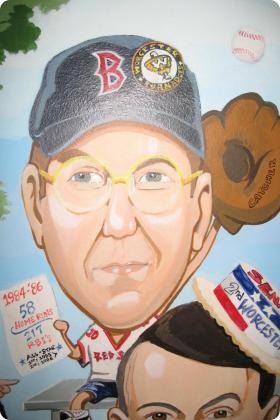 Few people embody the dreams of young Worcester ballplayers more than Rich does. Though known now as a big league All-Star, Rich was not a "can't-miss prospect" coming out of high school. A 1977 graduate of St. Peter-Marian, where he was pitcher and first baseman, he was not selected in that year's amateur draft. The Red Sox signed him shortly thereafter, converted him to catcher, and Rich's ascent to the big leagues began. In three short years, he went from undrafted free agent to making his major league debut on September 9, 1980 at the tender age of 20. The following season, after the departure of Carlton Fisk, Rich made enough of an impact to be named the 1981 Sporting News American League Rookie of the Year.
Rich enjoyed his most productive seasons from 1984 to 1986, when he hit a combined 58 homeruns and drove in 217 runs. He earned his first All-Star nod in 1985, when he hit .295 and set career highs in games, doubles, triples, RBI and batting average. He followed that up with a second consecutive All-Star appearance in 1986.
In 1985, Rich became the 16th player in Red Sox history, and just the sixth major league catcher since 1900, to hit for the cycle. He appeared in two Division Championship Series, batting a combined .357, as well as the 1986 World Series. Rich's major league career spanned 13 seasons, concluding in 1992 with the St. Louis Cardinals.
Following his playing career, Gedman remained involved in both baseball and the local community. He conducted clinics and camps and coached Little League and Babe Ruth teams. In 1996, he became a baseball coach at the Belmont Hill School. Rich returned to the professional ranks, this time as a hitting coach, when he joined the staff of the North Short Spirit, a rival of Worcester in the Can-Am League, in 2003.
Rich and his wife Sherry have three children, Michael, Matthew, and Marissa.