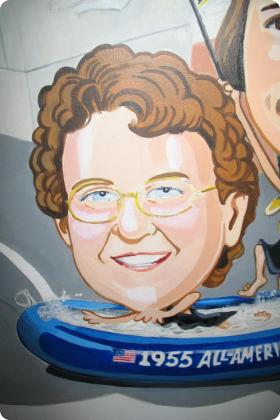 Coralie's desire to become a world-class swimmer surfaced early and drove her to practice no matter what the obstacles. Her time at the Lincoln Square Club dates back to the days when girls were not allowed in the Club. Coralie's coach, Carrie Noel, would wait for the executive director, Bob Cole, to leave the building. Coach Noel would then call her house and tell Coralie the coast was clear and she could come for practice.
Coralie is the first woman to be inducted into the Hall of Fame in the Club's history. She was a member of the 1952 U.S. Olympic Swim Team. In 1955, she was a member of the U.S. Pan Am swim team, garnering second place in the 100M backstroke. During the same year, at the Pan Am Senior Nationals, she was the 100M backstroke champion. Coralie was also named All-American in 1955.
After graduating from Purdue University, Coralie returned to her roots when her swim team rented the Lincoln Square pool for practice. Girls were finally allowed into the programs.
Now retired after 37 years of teaching physical education in the Worcester Public School system, Coralie is a coach at the Worcester Swim Club, is an active member of her church, and still hikes and swims.
Coralie attributes her personal achievements to her involvement at the Club, and the support from staff, especially from swim coach Carrie Noel. Coralie lives in Worcester.