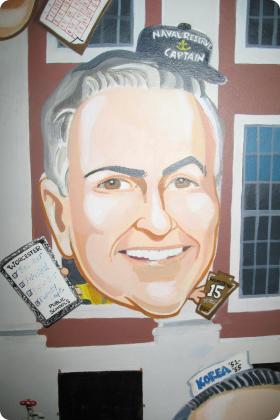 Tom is one of three generations of his family that have attended the Club. His father spent his youth at the Lincoln Square Boys Club and was active in Club activities. "We did not have any vacations or automobiles or any of the things that are taken for granted today. My life was the Lincoln Square Boys Club. I attended the Club virtually every day. I learned what it meant to help people and to be helped." Tom's four sons all attended the Lincoln Square Boys Club and were active in many ways.
Being active at the Club allowed him to see firsthand what the Boys Club did for the youth of the area where he grew up. As a child, Tom attended East Kendall Street School for grades K-8, and years later returned to there for another eight years. Staying within the Worcester Public School system, he served as a principal, supervisor and deputy superintendent. He currently serves as a Captain in the U.S. Naval Reserve. Many of the children that Tom taught were active in Club activities and he could see the positive effect it had on them.
As an adult, Tom continued to serve the Club and Worcester's children. He was involved in the development of programs and activities at Great Brook Valley, and Chair of its grievance committee. He received the Bronze Keystone Award for 15 years of devoted service to the Club. During this time, he was an advisor to the Lincoln Square Boys Club directors, member of the board of directors for the Boys & Girls Club of Worcester and president of the board.
Tom and his wife Noreen live in West Yarmouth and have raised six children – Thomas, Timothy, Theresa, Theodore, Tara and Trevor.