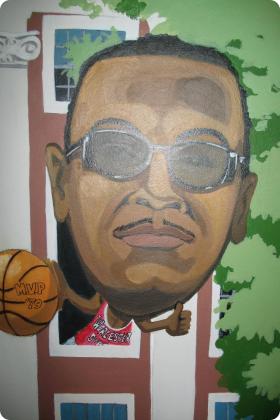 For almost 16 years, Sonny Jim, as he was known then, was a fixture at the Lincoln Square Clubhouse. Being a member of the Lincoln Square Boys Club was one of the most exciting times of his life. Being a Club kid taught him the value of sportsmanship, teamwork and respect for others. Sonny feels that being a Club kid laid down the foundation to manhood and family values. "I loved being a Boys Club kid and will never forget how it changed and shaped my life." He attributes his becoming one of this city's best basketball players in high school and college to his Boys Club activity.
During his high school days, Sonny was All City at North High School in '68, '69 and '70, and led central New England in scoring with a 29.9 point average in his senior year at North High. He attended Worcester State College from 1971-1975, and was Small College – All New England and Most Valuable Player in 1975.
Sonny started the Biddy Basketball Program at the Lincoln Square Boys Club, and was the first coach to have a female player who went on to become a City All-Star at Burncoat High School. He has the kids bring their homework in and set up the homework after-school program for kids. Sonny's Biddy Basketball teams placed first in New England. "The Boy's Club taught me that there is no color when it comes to people."
Sonny and his wife Susan live in Worcester with their three children Nina, Rosa, and Precious.