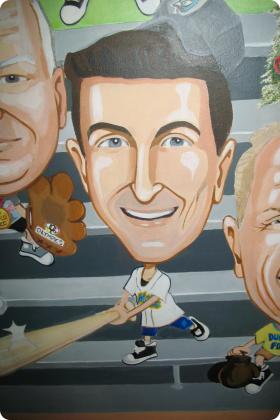 J.P. began his baseball career in high school, where he captured a state title with former Red Sox catcher Rich Gedman. He was tri-captain on the state champion St. Peter Marian HS basketball team, a 3-year letterman in baseball, and 2-year in basketball.
As a letterman at St. Leo's College in Florida, he was inducted into the school's athletic Hall of Fame in 2003.
J.P. coached the Club's basketball team for 5 years. During that time he started the Friendly House youth basketball program. This led him to eventually becoming head basketball coach at Holy Name High School. During his 11 years at Holy Name, his teams had 165 wins, 85 losses, 3 district championships, and 3 state final games.
He went on to play with the NY Mets as a non-drafted free agent. After two seasons in the minors, Ricciardi became a coach at age 23 in the Yankees system, before joining the Oakland organization in 1986 as a minor-league instructor. He was also a New England-area scout with Billy Beane, currently the Oakland A's general manager. At 32, he was promoted to East Coast scouting supervisor; two years later he became national crosschecker. In 1996, he became special assistant to then-GM Sandy Alderson. Under Billy Beane, his title was changed to director of player personnel.
Ricciardi was a member of the selection committee responsible for the gold-medal winning United States Olympic baseball team, and in 2001 he accepted the position of general manger with the Toronto Blue Jays. He is credited with improving the talent of the big-league club and throughout the farm system while simultaneously trimming millions of dollars from the payroll.
J.P. and his wife Diane live in West Boylston and have two children, Mariano and Dante.