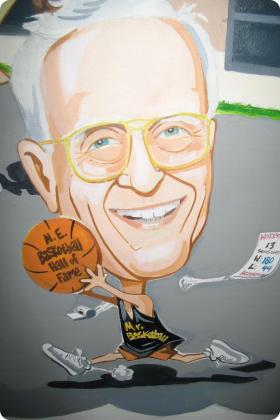 He was only in third grade at Thorndyke Road School, but the Boys Club's legendary coach Buster Sheary saw something special in the slim young man shooting hoops. Buster introduced Dee to the game that would become his life.
A graduate of Middlebury College, Dee received his Master's in Education from Boston University. He would become a coaching legend at Worcester Academy and was known by many as "Mr. Basketball" in Worcester. A 1947 graduate of the Academy, Dee was Worcester Academy's basketball and baseball coach, as well as director of athletics from 1955 to 1969. As a student at Worcester Academy, he lettered in baseball, basketball and football. As head basketball coach at Worcester Academy, he won the New England Prep School Championship nine times. He was a special assistant to Worcester Academy's headmaster and now serves as trustee emeritus. His overall basketball record during 13 seasons was 180 wins, 44 losses, 12 New England prep school tournaments and 9 New England championships with three finalists.
Dee was the University of Connecticut men's basketball head coach from 1969-1977, compositing a 120-88 record over eight seasons. His final game was his 300th career win versus 132 losses during 21 years. He won numerous titles including the Yankee Convergence Championship, New England Coach of the Year twice and earned a bid to the NCAA Tournament in the 1975-76 season, where the Huskies made it to the Sweet 16.
As UConn's associate director of athletics for development for 15 years, Dee established, developed, and marketed the UConn Athletic Development Fund. The fund has generated nearly $80 million in annual giving, special events and capital projects since initial drive in 1978-1979. Dee is a member of the New England Basketball Hall of Fame.
Dee and his wife Virginia live in Stoors, Connecticut and have seven children.