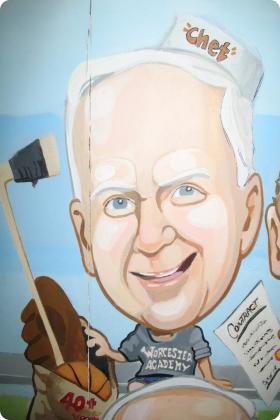 In 1935, Chet joined the Lincoln Square Boys Club, where he learned how to interact and get along with other boys from all walks of life. At the Boys Club, he learned the skills of swimming, basketball, and numerous other sports. As he grew older, he advanced to playing with the Lincoln Square Varsity Basketball team under coach Brownie Liberty. He volunteered for two years teaching kids from ages 7-10 & 14-16 the basics of basketball for Marty Whelan.
He was an All-City pick at Sacred Heart Academy high school and also played with some of the top semi-pro teams of the area; such as Don Coyle's Webster AA, the Tadcaster Brewers, St. Mary's AA and the Standish Club.
He enlisted in the US Navy at the age of 17 and took his training at the Sampson Naval Base in Watertown, NY. From there, he went to Long Beach, CA, Hawaii, and the Philippine Islands where he boarded the Destroyer USS Cates, and served as a sonar operator. Later he served in the South Pacific as well as the occupation of Japan.
When Chet returned home, he joined Worcester Academy where he worked as the athletic equipment and fields manager. He has worked there forty+ years, and in 1979 was elected to the Worcester Academy Hall of Fame.
Chet is married to the former Muriel Halloran, and recently celebrated their 53rd year anniversary. They have eight grown children.