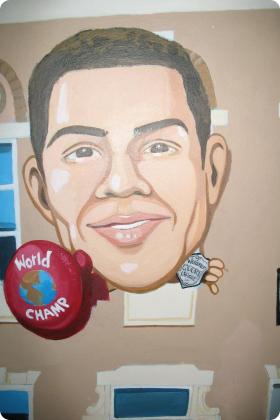 Jose was born in Philadelphia, PA, on April 7, 1973. His mother, Milagros Flores, raised Jose until he was 10, when she passed away at the age of 28. Jose, his brothers Jose F. and Marcos, along with his sisters Anna and Maria were left to fend for themselves. Between the ages of 10 and 15, Jose experienced many difficulties. He was separated from his family and found himself heading down the wrong path surrounded by negative influences.
In 1989, Jose moved to Worcester to be closer to his brother and sisters, heard about the boxing program at the Ionic Avenue Boys & Girls Club, and wanted to join the team. The Boys & Girls Club offered Jose a safe haven away from the trouble on the streets where he could go to play, have fun, and let out his frustrations while learning and sharpening his boxing skills.
Jose had a rewarding amateur boxing career. Under the tutelage of Carlos Garcia, the Club's trainer, he won two Western Massachusetts Golden Gloves Titles, one New England Golden Gloves Championship, one New England Gold Belt Championship, and a Bronze Medal at the Police Athletic League Nationals in California. Jose competed in the Junior Nationals in Arizona, fought in the Nationals in Iowa and California, competed in Canada, and was on the U.S. Team vs. Ireland. Jose volunteered and worked at the Boys & Girls Club before taking his boxing career to the next level.
In October of 1992, Jose turned professional. In 1996, he won the Massachusetts state title along with the United States Regional Championship later that year. He was crowned with the International Boxing Organization World Championship in 1997.
In September 2000, following a yearlong hiatus due to a wrist injury, Jose won another Massachusetts state title as a Junior Middleweight, and then went on to win the Welterweight North American Boxing Association Championship in May 2001. Currently Jose is the North American Boxing Association Champion. He has defended this title twice and is ranked seventh in the world by two of the three major world organizations.
With all of these accomplishments, Jose is most proud, not of his boxing status, but of his ability to channel his success in the ring toward helping others and serving as a role model for young people in his community. Jose has volunteered for the United Way for over two years, helping to raise money for the Boys & Girls Club through his speaking engagements. He was voted Speaker of the Year two years in a row. Later that year he was nominated Hero of the Week and subsequently became Hero of the Year with the winning proceeds going to the Club. Currently, Jose volunteers at the Kids Café, a non-profit charity located at the Club that provides meals to at-risk kids two nights a week. Along with being a professional boxer, Jose is also an Associate Court officer for the Massachusetts Trial Courts working in the Juvenile Court facility.