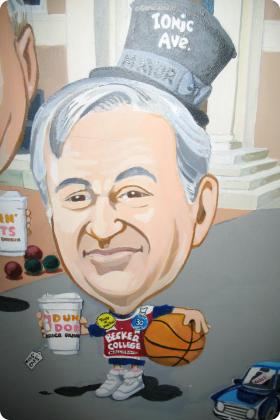 Gabe Simon has been with the Worcester Boys Club (and now the Boys & Girls Club of Worcester) for sixty-five years. As a youth at the Ionic Avenue club, he worked at the candy counter and also assisted Dr. Fossner. In 1946, Gabe was elected to the Boys Club Council, and in 1947 was elected mayor. That same year he was also the first recipient of the William S. Gilliam Citizenship Award, now known as the Youth of the Year Award.
Gabe was an original member of the famous Whiz Kids basketball team which won 19 straight games. He played for the Ionic Avenue Basketball Team from 1947-1949, winning both the Eastern and Western Massachusetts Boys Club Championships. In 1947, Gabe won the Boys Clubs of America national free throw contest, sinking 59 out of 60 baskets. He also played for the Ionians and coached the Ionic Small Fry team.
With the help of a scholarship, Gabe graduated from Becker College, and in 1973 he was inducted into the Becker College Hall of Fame. He succeeded the late Ziggy Strzlecki as chairman of the Hall of Fame committee. He also chaired the Evans Scholarship Fund, and has been a member of the Becker College Board of Directors for the last fifteen years. He received the Becker College Distinguished Alumni Award for Public Service in 1991.
In 1971, Gabe was elected president of the Worcester Boys Club Alumni Association, a position he still holds today. In 1982, he was elected President of the Boys Clubs of America National Alumni Association, serving two terms.
Gabe Simon was a member of the Boys & Girls Club of Worcester's Board of Directors for thirty years. In 1985, he received the Billiard Award from the Boys Clubs of America for his contribution to the National Alumni. He's received the Boy's Club Medallion for thirty years of service, and in 1998 was presented with the Man and Youth Award.
Gabe is a Dunkin Donut franchisee, and serves on many committees for Dunkin Donut Corporation. He was inducted into the Metropolitan Diners Club Hall of Fame in 1988. Gabe Simon was instrumental in obtaining a $10,000 donation from Dunkin Donuts to renovate the Ionic Avenue kitchen so Kid's Café, located in the Ionic Clubhouse, would be able to serve hot, nutritious meals to hundreds of disadvantaged kids every Tuesday and Thursday afternoon.