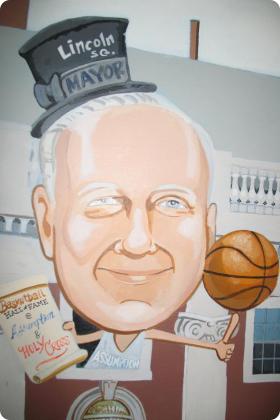 In 1934, Andy Laska was elected the first mayor of the Lincoln Square Boys Club, where he learned the ABCs of manhood and of baseball. At North High School, Andy was an outstanding player, under the guidance of Coach Marty O'Malley. He played varsity basketball for four years at North, and was captain of the Polar Bears in 1943. He was elected to the inter-high All Star Team in 1941, 1942, and 1943; and to the All-City team the same years. In 1941, Andy was an All-Massachusetts All-Star, and in 1943 he was on the All New England team.
Following a 33-month hitch in the U.S. Army Air Force, he entered Holy Cross College in 1946. Andy was a guard on the NCAA Championship team, which finished the season 27-3. That season included a 23-game winning streak. In his sophomore season, the team went 26-4 and again made the Final Four, where they lost to Kentucky but bested Kansas State to finish third nationally.
During Andy's junior season, the Purple had a home winning streak of 43 games, a mark that remains a Crusader record today. The 1949-1950 team compiled a 27-4 record and returned to the NCAA Tournament, dropping a first round tilt to North Carolina State. He finished that season with 253 points for an 8.2 points-per-game average, including 12 games in double figures, and scored over 20 points on three different occasions. His final team compiled an overall record of 99 wins and 19 losses.
From 1952 until 1967, Andy was the head coach of the Assumption College basketball team, where his teams won 225 games and lost only 96. He was the first non-alumnus to be elected into the Assumption College Hall of Fame. He also served as Director of Athletics beginning in 1956. In 1975, the gymnasium at Assumption College was named in his honor. He continued there until 1986.
On May 5, 2001, Andy Laska was voted into the Holy Cross Hall of Fame.