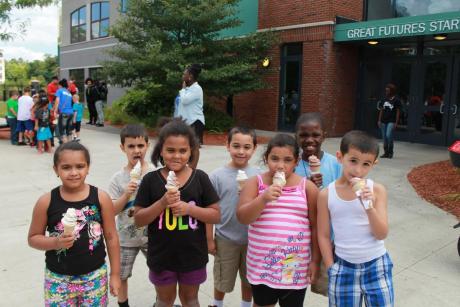 Summer Programs
The Boys & Girls Club of Worcester offers a variety of fun and educational activities during the summer months. There are opportunities in the arts, athletics, social recreation, and science and technology. Members are welcome to participate in daily swim classes and free swim in our indoor college-regulation sized pool.
During the summer, the Worcester Police Department offers the G.A.N.G. (Gang Awareness Next Generation) program, which is designed to educate youth about alternatives to gang-related activity. Worcester Police officers encourage a spirit of teamwork and healthy competition, establish positive role models for the city's at-risk youth and incorporate games and activities that keep kids engaged and having fun.
The Boys & Girls Club summer program runs from June 24th- August 16th, 8:00am-4:00pm at the Harrington Clubhouse. Please see attached brochure for pricing information.
For more information regarding registration, please contact the front desk at (508) 754-2686 from 9:00 a.m.-5:00 p.m. Monday-Friday.
To support our Seasonal Programming, as well as all the programs we offer at the Club, please make a secure online donation.